This was options for when you are doing a live call from the supervisor panel listening to fellow colleagues live calls whether this be to aid them or train them
When in the supervisor panel you would see option called InCall which will show you all the active calls that are taking place to listen to live call you will need to click on the agent name and option and field will pop up on the left hand side which will show
lick directly on the live call that you would like to monitor.

The left side of the page will then display your monitoring options.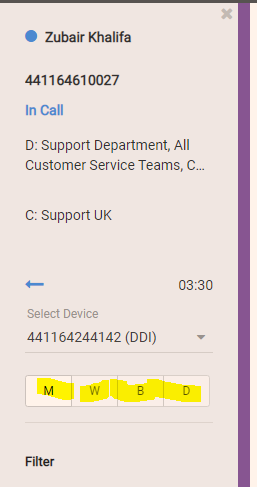 Select your click device.
Select your action (M, W, B, D). You will then be connected to the call utilizing your Click Device. as it would ring yourself to actually listen to the live call
If you would like to Monitor, Whisper, Barge into a live call, follow the steps below:
[M] Monitor: Monitor allows you to listen to live calls without either party being able to hear you or be alerted that you have joined the call.
[W] Whisper: Whisper allows you to speak to the agent without the caller heading you. This can be useful if the agent is struggling on a call and needs some coaching or help advice.
[B] Barge: Barge allows the supervisor to speak to both parties on the call. By clicking this button, a conference call is automatically
[D] Disconnect: This will end the entire call with your agent and their caller.