Once Logged into the Salesforce System on the bottom bar or row you should see plugin for CloudCall
At the top of the salesforce plugin,
click the arrow.


Click to expand the number options.
Then click the number to make it your
new displayed number for outbound
calls.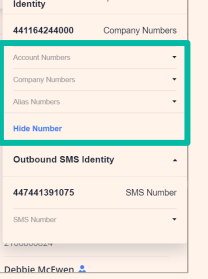 Account Numbers: a direct line that CloudCall provides for
login purpose. Calls to the number ring only you.

Company Numbers: usually main line numbers that your
admin has allowed you to display as. Calls to these numbers
usually call a group of people.

Alias Numbers: Usually your direct number that ported to
CloudCall. Calls to the number ring only you.

Hide Number: Caller will not see a number
SMS Number is your SMS number when you are texting out to customers and candidates