At the top of the chrome plugin, click the arrow to expand the outbound identity options.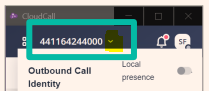 Select one of the presented options, and click on the number you wish to display for outbound calling. You can choose your account number, a company number an alias or hide your number.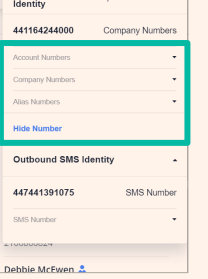 Account Numbers: Your CloudCall account number

Company Numbers: Company main line numbers.

Alias Numbers: Another number that is associated to your CloudCall account number.

Hide Number: Number is displayed as anon/withheld on the recipients phone.
SMS Number: Preferred SMS number.